Dropscan is a cloud-based scan service which allows you to easily digitize your postal mail and other paper documents.
Dropscan works like a digital mailbox which allows you to convert your daily mail and other important paperwork into searchable PDF files. After Dropscan is done, just download the scans to your computer or mobile device.
How Dropscan works
Every Dropscan customer receives an individual postal address in Berlin, Germany, called the Scanbox, to which any kind of paper documents can be sent. You can even forward your entire postal mail or provide the address to your customers, suppliers or friends and family.
Whenever a mail piece arrives at your Scanbox, the closed envelope is scanned immediately and you are notified via e-mail. With just a click you can decide, whether Dropscan should open the mailing and scan the documents inside. Or you can tell them to archive, shred or forward it via postal mail.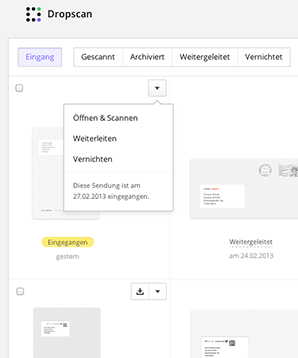 Receive scanned mail directly in Planio
Connect the Scanbox with your Planio account and enjoy total paperless freedom. Just select one of your Planio projects as your mail inbox and immediately all your mail will arrive in Planio — as issues with a PDF file attached.
In case you would like to receive your company's invoices seperately, just set up another scanbox. Dropscan and Planio will sort your mail and send it to the correct project and tracker.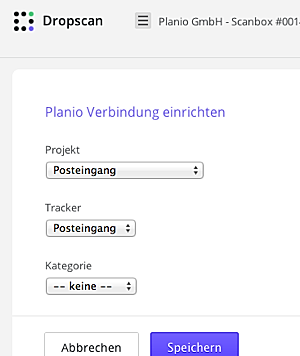 Set up workflows for your incoming postal mail
Of course you can use all of the powerful features in Planio, now that your mail arrives as Planio issues.
Easily sort, organize and file your mail in Planio or redirect individual mail pieces to the responsible colleagues.
Now you can view the entire communication history in Planio Help Desk: Whether via e-mail, telephone or postal mail, every single interaction with your customers is and remains available at your fingertips.