Share critical files with your colleagues using the Documents interface, or add meaning to content by attaching files to blog articles, issues, and forum messages. Make use of the repository, a fully-synched environment that enables your team members to access the latest content and make real-time changes. Lastly, create new project issues on the road with Planio Inbox — just compose an email and send it to your project's Inbox address!
File Distribution
Files can easily be shared with colleagues and team members via direct upload to Planio — all files can then be accessed by all project members on the Documents page. In addition to the Documents section, files can also be associated with blog articles, issues, and forum messages. Without cumbersome updates via e-mail, all project participants are always on the same page.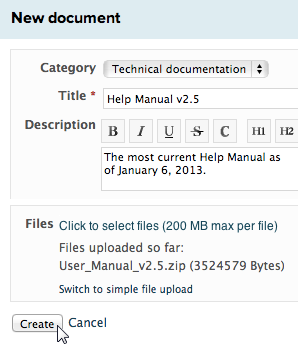 Repository Integration
Planio features a robust repository environment that features several key benefits, such as: a centrally-stored secure location, synchronization of data across all participating project member's hard-disks (latest file versions always available), and comprehensive versioning control (including change history, reversion to older versions, and collaborative content merging). The repository can use either the Subversion or Git protocols, both of which can be easily installed your local computer.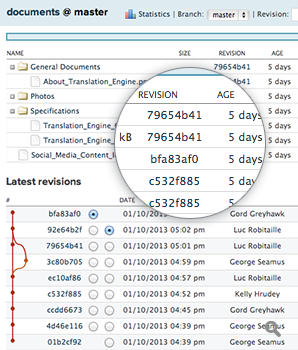 Achieving Content Mobility
There's no need to feel tethered to your computer when it comes to File Management. Planio is built with the traveler in mind — all you need is an internet connection. Files can be directly added to a project's Documents interface (via web access), the repository can be accessed for collaborative work (also via web access), or files can be directly associated with an issue by sending an email attachment to your project's Inbox address (via smartphone).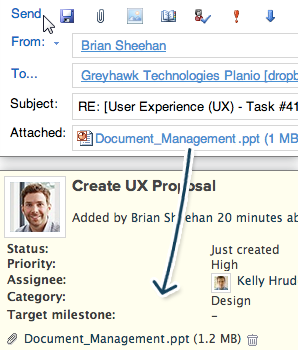 A Flexible Document Solution
Easily upload files to the Documents section for project member sharing.
Sync content across all project members for a fully collaborative environment.
Access the latest files, view changes, merge content, and track changes.
Associate a file with an issue by sending an e-mail attachment via smartphone.
Use the batch file upload enables you to get work done quickly!