Planio's Roles and Permissions structure features a 100% configurable system that gives you complete control over system access. Roles can easily be defined and then brought to life via an easy-to-use Permissions assignment interface. You could opt for broad-based roles that encompass a majority of Planio's features or you may prefer focused roles tied to feature-specific functionality.
A Role-based Approach
Planio helps you to manage how employees use the app based on their requirements — afterall, no two users are alike… a Developer has a much different set of needs compared to a Manager. This is accomplished via Roles, a free-form structure that enables you to define who is using Planio and then, via Permissions, define how they use the app. Of course, if such flexibility isn't immediately needed, you can always opt to use our awesome default roles!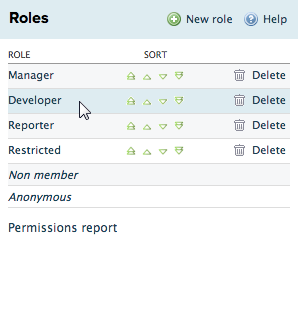 Managing System Access
After you've established who is using Planio (Roles), you can specify what types of functionality they can access (Permissions). The Permissions interface is organized according to features, such as Projects, Issue tracking, and Forums. This flexibility gives you the option to implement either a broad-based structure (e.g., a handful of roles with many permissions), a more narrowly-defined structure (e.g., multiple roles with specific functional access), or perhaps a combination of both.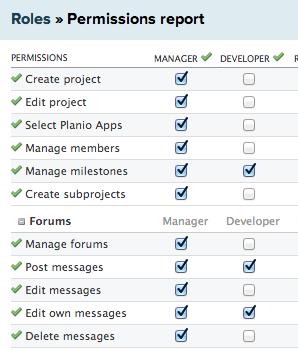 Comprehensive Authentication
Planio offers a series of categorizations that empower you to control which specific users, or groups of users, can access project functionality based on role. Planio accounts can have multiple user accounts and every user is assigned their own password. Users can also be organized into groups, both of which can then be assigned to projects using roles. Roles, permissions, users, and groups work in harmony to give you control over how you'd like to manage access to your project infrastructure.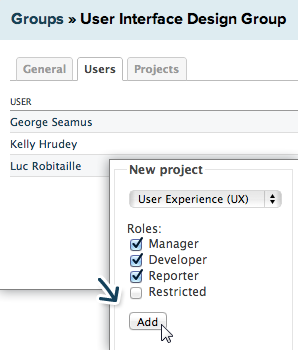 Intelligent Accessibility
Planio's workflow structure provides access to status modifications for selected trackers based on role. This means that you can manage access to your issue workflow process based on the type of users (roles) in your organization. For example, when recording a system error, a Support Specialist may only be allowed to change an issue's status from "Need more info" to "In progress". For further refinement, you could specify that such a change is only allowed for issues with the "Error" tracker.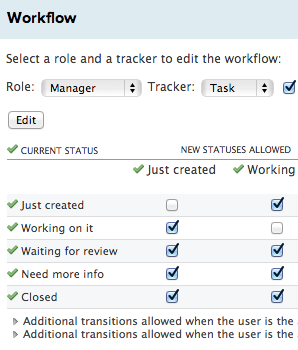 Intuitive System Access Control
Role-based: Define what type of users can use your Planio environment.
Permissions: Specify detailed permissions outlining how users can operate the Planio system.
Authentication: Control which users, or user groups, can access project features based on role.
Workflow: Manage access to issue workflow based on the types of users in your organization.
Flexibility: Create roles & permissions sets or use our pre-defined system defaults.